The Risks of Fire & Water Damage This Holiday Season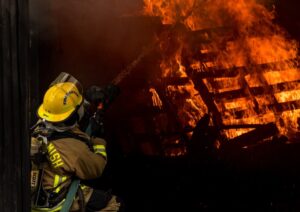 Water damage and residential fires are common in the holiday season. An array of safety hazards tend to spike during the holiday season. However, the most common mishaps to occur during the holiday seasons are water damage and residential fire. It might come as a shock to you, but even Christmas lights and Christmas trees can cause water and fire damage.
The holiday season is about spending time with friends and family.  However, you might not know, but the fun can cause a disaster. Therefore, it's not just important to take necessary precautions, it's equally important to have contact of a good restoration company.
In this article, we'll tell how the holiday season brings the risks of water and fire damage and how severe the problem can get if you don't act quickly.
What Causes Residential Fires During the Holiday Season?
Unattended cooking is the most common cause of residential fires during the holiday season. With friends and family present, it's easy to get distracted cooking up a holiday feast in the kitchen. The cooking pans get overheated and soon cause a destructive residential fire.
Holiday season aside, unattended cooking causes the most number of residential fires every year. So, make sure to ask someone to watch over the food if you have to use the restroom or feed your baby.
Around 770 residential fires are caused by Christmas lights each year. It's important to make sure that you don't leave them on for prolonged periods. Even the Christmas LED lights people use can overheat and, with a combination of dry Christmas trees, cause a destructive residential fire that can spread quickly throughout the house.
For many, Christmas decoration isn't complete without candles. Setting up a Christmas feast without placing candles on the table doesn't feel complete. Candles for sure look good and are an instant mood fixer.
However, according to the National Fire Prevention Association, around 23,600 residential fires occur annually due to candles that account for 1,525 civilian injuries, 165 fatalities, and $390 million in property loss.
Candles make a great Christmas gift and play an important role in Christmas decorations too. However, it's important to make sure that you never leave a burning candle unattended and put them on a heat-resistant surface.
What Causes Water Damage During the Holiday Season?
Appliance mishaps are the most common cause of water damage during the holiday season. Your friends and family would want to help you wash the dishes and do the laundry after you spent your day cooking meals and making sure they feel at home.
Not all dishwashers, washing machines, and ice makers work in the same way. All it takes is a user error for these appliances to cause major flooding in the house. Furthermore, it's important to understand even a little amount of water can cause some serious damage to the house.
When there's water damage, the chances of mold spores spreading throughout your house is high too. If you don't want one damage to lead to another, it's important that you tell your friends and family how your appliances work and share the limitations that they may have.
Another cause of water damage during the holiday season is watering Christmas trees. We understand that you want to take care of the Christmas tree. However, they can cause major damages if you have a leaky pan. If you are filling up the pan every day, you are causing more harm than good.
Watering your Christmas trees is absolutely important and necessary. However, try not to do it every single day. Look under the tree, if the floor is damp, it's safe to conclude that there's a leak that you need to immediately take care of.
If you are visiting your friends and family for the holidays, it's important that you either turn the water off or let the faucet drip. The weather is cold during the holiday season, so if the power goes out and the pipes around your house freeze, all it'll take for them to cause flooding in the house are a few cracks.
Water and Fire Damage Restoration
Water and fire damage restoration are complex and comprehensive procedures. If you don't want to spend your holidays away from your house in a hotel room, it's important that you take the necessary safety measures.
Whether your friends and family are visiting you, or you are planning to fly to them, make sure to take all preventative measures. Water damage can cause molds to grow, which can lead to an array of serious health conditions. On the other hand, residential fires not only cause structural damage but the smoke caused by them can infect your lungs and cause health complications.
On the Lookout for a Trained, Certified, and Experience Home Restoration Company in Burbank, Glendale, and Pasadena?
Water and fire damage is not at all easy to deal with. Water damage restoration and fire damage restoration are elongated procedures. So, it's important that you get the work done by a trusted and honest home restoration company.
After the fire has been put out by the firefighters, the first call you need to make is to your insurance agent, and second to a trusted and experienced home restoration company like 911 Restoration of Burbank, Glendale, and Pasadena.
The local home restoration company has all the necessary equipment and tools they need to restore your house into something better. Because of the presence of excessive water, the chances of mold growth increase. The home restoration company also offers mold removal and inspection services to ensure the safety of you and your family.
As they have worked on diversified types of restoration projects, they know how to come up with an effective and quick restoration plan. Backed by industry-relevant experience, certifications, and advanced equipment, 911 Restoration of Burbank, Glendale, and Pasadena is the local home restoration company you can trust.