Fire Damage Restoration in Burbank
Between Southern California's high temperatures and dry climate, fire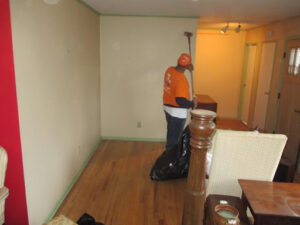 can unfortunately happen any time in the Burbank area and you'll need fire damage restoration. That risk goes up drastically during the summertime, and just one careless act or electrical malfunction can spark a massive blaze that takes down multiple homes at once. And when it happens, you can only count on the best fire restoration contractors in the area to save your home or business.
Thankfully, 911 Restoration of Burbank can help you get your life back together after an emergency. Because fires can happen any day at any time, our phone lines are open 24/7/365 so we can send a team to your front door within 45 minutes.
Our fire damage restoration crew is fully licensed, insured, and IICRC-certified to aid you through all types of emergency situations. We equip our pros with all of the best tools and materials needed to get your property to better-than-new condition after fire, 911 water damage experts, and everything in between.
Since we are locally owned and operated, our entire staff knows firsthand just how bad fires can get in and around Burbank, Glendale, and Pasadena. Not only do we understand your urgency and work hard to bring your property back into shape, but we'll also treat you just like we would our own neighbor. You'll receive the utmost compassion from the moment you contact us until long after we've completed our repairs, letting you know that you'll be well taken care of.
If you've just experienced a fire and don't know where to turn, call 911 Restoration of Burbank right away.
Giving You a Fresh Start with Fire and Smoke Damage Restoration
Please remember that we cannot put out the fire ourselves. As soon as you spot smoke or flames on your property, get everyone to safety and call the fire department immediately. Once they've put out the blaze, and given you the all-clear, reach out to us to begin restorations.
During any emergency, your safety should always be priority number one. Remember: buildings and possessions can be replaced, lives cannot.
When you call on us at 911 Restoration of Burbank, we'll send a team of our professionals to your home or business. Once our crew arrives at your property, they will perform a complete visual inspection (free for property owners) and give you a rundown of our upcoming process. If
they locate any untouched or salvageable items, they will pack them up and store them away for the time being. 
At that point, our experts will start off by cleaning all surfaces of smoke, soot, and ash with soda blasting. They then move on to repairing the structure, replacing materials and sections as needed, and  also performing puffback cleanup for furnaces and hot water heating systems. We will even take in your salvageable, which includes everything from furniture and dishes to clothing, and bring them back to their original state.
It's also quite common to find water damage at fire scenes due to the hoses and sprinkler systems. We work to thoroughly repair that as well and remove any resulting mold removal Pasadena outbreaks that we find throughout your property. And once we permanently remove any lingering odors, you'll have a truly Fresh Start after a major disaster.
Call us today and let us take care of all your fire restoration needs.
What Other Services Do You Provide After a Property Fire?
Aside from our full restoration services, we at 911 Restoration can even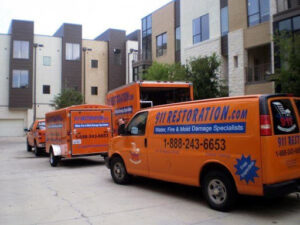 guide you through the complicated insurance process.
If you own property anywhere on the West Coast, then you know that insurance is a must-have for the risk of fires alone. Even a small kitchen fire can leave massive amounts of damage that result in expensive repairs. Still, it can be difficult to figure out what's actually covered and how you're going to protect yourself financially.
For this reason, we always provide a free consultation after inspecting your property. After our initial inspection, we sit down with you and go over what your coverage options are and how the filing process works. We then do everything from guiding you through all of the paperwork to billing your insurance company ourselves, allowing you to really focus on rebuilding your life.
We at 911 Restoration know just how unpredictable life can be, and that emergencies often occur at the worst possible times. But no matter what has just happened, or how it all started, we'll be here for you every step of the way.
We happily provide fire and smoke restoration services to everyone in Burbank, Glendale, Pasadena, and the surrounding areas.