About 911 Restoration of Burbank, Glendale, and Pasadena
Meet the Owner:
Josh Kfir has come a long way from building homes in his native Israel to becoming the proud owner of 911 Restoration Burbank. Yet no matter which job he's held over the years, helping people has always been his primary focus.
Since leaving Israel for L.A. ten years ago, Josh has transitioned careers multiple times. During that time, he's gone from managing POS services for retail to marketing and consultation for a cosmetics company. He also works in a number of freelance consulting positions that give him time to pursue his true passion: home services.
Josh already had years of construction experience in Israel, where he developed a love for building and fixing homes. When his friend and business partner, Yaniv, approached him with an opportunity to buy a 911 Restoration territory, he was fully on-board. Despite a few setbacks brought on by the coronavirus, they now happily service properties around Burbank, Glendale, and Pasadena.
For Josh, restoration was the perfect opportunity to combine his construction background with his out-going personality and desire to always help others.
"I like everything that relates to people," he says, "I like stuff that relates to helping people and talking to them."
It's this exact care and dedication to the customers that makes 911 Restoration Burbank stand out from all the rest. Every single expert on our staff is licensed, bonded, insured, and IICRC-certified in all forms of restoration and repair. So when you call on us, you'll be met with a highly-trained crew of professionals who can take on multiple repairs, treat each job as important as the next one, and put your mind right at ease. 
Whether you need emergency water, mold, or fire restoration, our team will bring your home or business back to like-new condition for a truly Fresh Start.
Tips From A Restoration Expert
The pros here at 911 Restoration Burbank aren't content with just restoring your home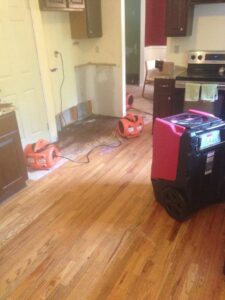 or business. We also give you plenty of helpful tips to prevent another disaster in the future. Some of our best pieces of advice include:
Address all leaks, spills, and flooding as soon as you spot them

Remove leaves and other debris from gutters to prevent clogs

Trim all low-hanging branches to prevent roof and window damage

Regularly check pipes and hoses for any signs of wear 

Trim all tree roots in your yard to prevent sewage backup

Never dump corrosive substances down your drains

Only flush human waste and toilet paper
Furthermore, any area that's sustained water damage needs two things to prevent mold growth; ventilation and plenty of direct sunlight. However, we know that those aren't easy to use when you're fixing a dark basement or cabinet. That's when you call on Josh and his team of experts for the most high-quality water damage restoration in the Burbank area.
And because of the West Coast's frequent wildfires, especially during the summer, we even have a few tips for reducing potential fire damage to your property:
Frequently remove all dead vegetation near the building

Keep your window screens and attic vents clear

If you have firewood, keep it at least 30 feet from your property

Use multi-pane, tempered glass for all windows

Make sure all roofing materials have a Class A fire rating
With that said, please put your safety above all else and evacuate if the fires spread too close to your neighborhood. We at 911 Restoration Burbank will be there when you return to provide you with our outstanding fire damage restoration services, as well as plenty of care and compassion.
A water damaged kitchen corner is being dried by blow fans. A water vacuum is set near the stove.
Putting Customer Needs Above All Else
At 911 Restoration Burbank, Josh consistently prides himself on his high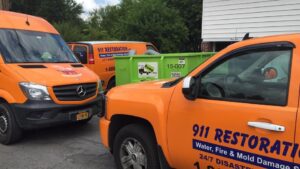 standards and does everything he can to put his customers first. According to him, the keys to great service are listening and really getting to the bottom of what is wrong. 
Let's say, for example, that you need water damage mitigation and aren't sure what's causing the problem. Our experts perform a free and thorough visual inspection of your property to find the source so we can properly fix it. If that means fixing a pipe, replacing your drywall and insulation, we'll do all of that plus preventative maintenance if necessary.
Or you may have just purchased a new home and discovered that the previous owners have left a mold outbreak in the basement. We'll not only remove the mold completely, but we'll take the extra step of checking for the source, making necessary repairs, and even setting up third-party lab testing to further ensure your health and safety.
Any kind of damage to your home or business can take a toll on you mentally, emotionally, and financially. That's why we're with you through every step of the restoration process, from addressing your questions and concerns to walking you file your insurance claim. Where honesty and reliability are everything, you can count on us to have plenty of both
No matter what just happened, or how bad things get, our team at 911 Restoration Burbank is always on hand to help get you back on track after any natural or manmade disaster.
Three 911 Restoration vans parked in a driveway around a bright green dumpster.