Mold Removal in Burbank
When 911 water damage experts isn't addressed right away, mold removal will be needed because mold will start to grow on your property and can cause everything from structural damage to potential health concerns. And you don't often spot the outbreak right away, or it might even be left over from previous owners. Either way, it's usually out of control by the time you'll find it and requires a highly-trained team of professionals to get it removed safely.
If you find a serious outbreak anywhere on your property, reach out to 911 Restoration of Burbank right away for fast and thorough mold remediation. With our 24/7/365 availability, we can send a team of professionals right to your front door within 45 minutes of your call. 
Each member of our licensed and bonded staff is IICRC-certified,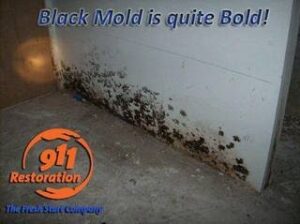 bringing years or thorough training and experience with them. We fully utilize the best techniques available to safely remove all types of mold and repair any damage that's been left behind. So when you call on us for your restoration needs, you'll know that we'll do everything we can to bring your home or business back to like-new condition.
We treat all of our clients like we would our own neighbors and go the extra mile to make sure you're taken care of even after we've finished. No matter how bad an outbreak you have, property owners all over Burbank, Glendale, and Pasadena can rest assured knowing that we've restored both their home or business and their peace of mind. 
Give 911 Restoration a call today, and learn more about our specialized mold remediation services.
Are Some Types of Mold More Dangerous Than Others?
Although mold itself isn't deadly to most humans, it can still cause structural damage and certain health problems if it's not removed quickly. Untreated mold can destroy drywall and insulation, slowly degrading parts of your property overtime and making existing damage even worse. If it's not removed immediately, then entire sections of the wall and flooring will need to be replaced.
If there's an outbreak on your Burbank-area property, you may experience cold-like symptoms that include:
Coughing

Runny nose

Congestion

Eye Irritation

Sore Throat

Skin Rash

Headaches

Wheezing
More extreme types such as stachybotrys chartarum, or black mold, can severely affect newborns, the eldery, or those with compromised immune systems. So removing it is critical if you or someone you know suffers from asthma, mold allergies, COPD, or any chronic lung condition.
Remember that mold likes dark and damp places, so. If you discover a severe outbreak on your property, leave it alone and call 911 Restoration of Burbank for fast and efficient mold decontamination.
For The Most Efficient Restoration and Mold Remediation Services
You might be tempted to get rid of mold outbreaks on your property by yourself. While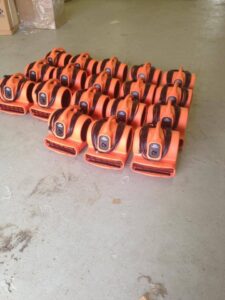 it is easy to remove on your own, cleaning can often release spores into the air and spread the outbreak around the building if you aren't careful. So for the toughest jobs, call 911 Restoration of Burbank and let our team of professionals remove it safely and efficiently.
After our free initial mold inspection, our technicians will give you the full rundown of their strategy going forward and keep you updated every step of the way. They'll remove all remaining water, get everything completely dry, and take all necessary precautions to keep the mold from spreading further. They will also check for additional outbreaks around your property and replace any drywall, insulation, or other affected areas if they are too badly damaged.
And our services don't stop once we've restored your property. If need be, our staff can go the extra mile of arranging a third-party lab test to further put your mind at ease. And before we leave, we'll happily provide you with plenty of tips for preventing another outbreak in the future.
Even though we do offer help with filing insurance claims, you might run into some problems with your company if mold is involved. This is because insurance providers will often turn down a claim if the damage was preventable, which mold typically is. With that said, we can still take the time to go over your best payment and coverage options going forward.
No matter how it all started, our pros are on-hand to help you recover. When you've sustained water damage and mold, let 911 Restoration of Burbank keep you and everyone around you safe.
We're here to give everyone in Burbank, Glendale, and Pasadena the Fresh Start they need.