Storm Restoration of Burbank
Between earthquakes, floods, and wildfires, there's no shortage of natural disasters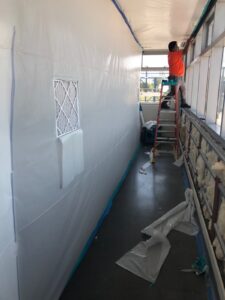 here in Southern California and the need for storm restoration. Even though we try our best to safeguard ourselves as much as possible. Nothing can fully prepare us for when they actually happen. When your property gets caught in the crosshairs, you can only count on the natural disaster cleanup companies in the area to mae things right again.
 Fortunately for you, 911 Restoration can be at your front door with high-quality same day service within 45 minutes. We know better than anyone. Emergencies can happen any day and any time, which is why our phone lines are open 24/7/365. 
Our IICRC- certified staff is fully licensed, insured, and equipped with all of the best tools and materials needed to rebuild after any natural or manmade disaster. They each have years of training and experience in multiple forms of restoration, allowing you to get all of your needed repairs done at once. And because our entire staff is local to this area, they know exactly what to expect while living here and can fully restore any commercial or residential property that's sustained fire, earthquake, or flood damage.
If you're in need of post-disaster repairs, call on 911 Restoration of Burbank for a fast and thoroughly Fresh Start.
High Quality Fire and Water Damage Storm Restoration after Disasters
Obviously, the first thing you should do in any disaster is get to a safe
environment and wait for it to pass. Whether it's under a table during an earthquake or far away from your neighborhood during a fire. Everyone's safety should always take priority. Once it's over and you've been given the go ahead by local authorities, call our staff at 911 Restoration of Burbank.
Our restoration experts always start off with a free visual inspection for property owners. As well as If need be, they will extract any loose water left behind from leaks, floods, or even hoses and use blow fans to get everything dry. Any untouched or salvageable items will be packed up and either stored away for the time being or fully restored at another location.
Because natural disasters bring about all types of property damage, our high-quality services truly run the gamut. Depending on what you're property has just sustained, we can provide you with:
Leak and flood repair

Emergency roof repair

Window and flooring replacement

Drywall and insulation replacement

General structural repairs

Complete mold remediation

Smoke, ash, and soot removal

Cleaning and decontamination

Permanent odor removal
Once our team arrives, and gets straight to work. You can rest assured that your property will be thoroughly taken care of. Your peace of mind is what's most important to us, and we won't stop until we know it's been restored.
Contact 911 Restoration right away to bring your home or business to better-than-new condition.
How Much Can Storm Restoration Cost Me?
Depending on what's happened, and the property you own, disaster restoration can range anywhere from a few hundred to several million dollars. 
If you own property in any area where natural disasters are common, then you absolutely need insurance. Of course, it can be difficult to navigate the claims process when you finally have to use it. And no doubt the stress of your current situation isn't helping things at all.
Along with our free visual inspection. We at 911 Restoration of Burbank can provide you with a free insurance consultation to make the process easier. We let you know exactly what's covered under your current plan and what your options are going forward. From there, we can guide you through the paperwork, provide updates on your claim, and even bill your insurance company ourselves.
Furthermore, no matter who you are, you can count on us treating you just like part of our family. Whether it's help with finances, damage prevention, or just some old-fashioned reassurance. Our entire staff is here for you whenever you need us. We've built our legacy on helping those in need during their most difficult moments. That's exactly what we'll do for you.
We can't control Southern California's climate, put out fires, or prevent the next major earthquake from happening. When disaster strikes, know that we'll be right there to give you the Fresh Start you need to get your life back in order.
Serving the communities of Burbank, Pasadena, Glendale, Los Angeles and surrounding areas.