Water Damage Restoration
Water Damage Restoration in Burbank
From everyday accidents to sudden weather changes, property damage can happen any time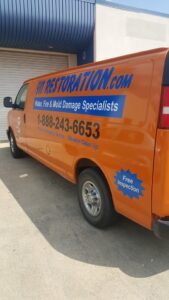 in many different ways. When you need water damage restoration in Burbank, count on 911 Restoration of Burbank to bring your home or business back to its former condition.
Because emergencies never take a day off, our phone lines are open 24/7/365 and can arrive at your property in no less than 45 minutes. Our entire crew is IICRC-certified and fully trained in the best techniques for restoring your home or business after all types of disasters. And because we're locally owned and operated, we treat all of our clients like we would our own neighbors.
No matter how unpredictable life gets, 911 Restoration can provide top-tier services to all Burbank, Glendale, and Pasadena property owners. Call us today and learn how we can give you a truly Fresh Start!
At 911 Restoration of Burbank, we offer a Fresh Start with our comprehensive selection of property damage restoration services, including but not limited to:
Whether you're a California homeowner or business owner, 911 Restoration of Burbank is your Fresh Start! We'll communicate with you throughout the entire process, help answer questions related to insurance, and restore your property to its pre-damaged condition. One of our IICRC-certified teams is dispatched within 45 minutes of your call! Contact us today, and one of our friendly representatives will assist you in finding the nearest California location.
Service area map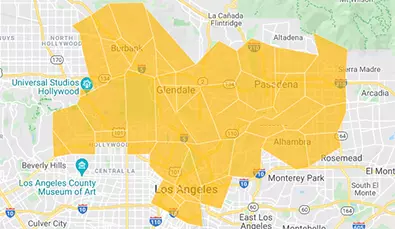 Disaster Restoration
There's no shortage of natural disasters in the Burbank area, from floods and mudslides to earthquakes and wildfires. Our water damage restoration technicians in Burbank know this area well and will provide you with all of our available services to get you back on your feet as quickly as possible.
If you've experienced a fire, we'll efficiently remove soot and ash and fully repair any damage we find. We board up and repair buildings after earthquakes and provide water damage restoration and mold removal after sudden floods, burst pipes, or fire hoses. We even take the time to clean and sanitize your property afterwards, providing you with a Fresh Start by the time we're done.
But more than anything, you'll be treated with the utmost compassion and sensitivity. You have enough on your plate, so let us lighten the load so you can focus on rebuilding your life.
Clear plastic bags full of insulation piled up in the corner of a room next to an orange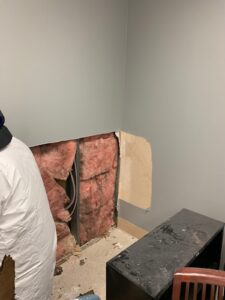 and silver ladder.
Commercial Restoration
911 Restoration is especially committed to helping all businesses in Burbank, Glendale, and Pasadena.
As a locally owned and operated branch ourselves, we know how important it is to protect an investment and will treat your commercial property like it's our own. Our dedicated team will do everything from restoring your property to providing tips for prevention and even aiding you with the complicated insurance process. 
Serving the communities of Burbank, Pasadena, Glendale, Los Angeles and surrounding areas.
Water Damage Restoration in Burbank
Damage from a broken appliance, flooded basement, or leak in the ceiling, ruins your property's structure and creates potentially harmful water damage. If your property has suffered water damage, don't wait to call!  Reach out to us as soon as you discover it, and we'll send a team of our technicians straight to your front door in less than 45 minutes, guaranteed!
First, we'll start off with a thorough visual inspection.  From there, we do everything from safeguarding at-risk items to boarding up the roof and windows. Once structural repairs and replacements are finished, we'll sanitize everything for a truly Fresh Start.
Contact us right away for the best and most efficient 911 water damage experts in the Burbank area.
Cleaning Services and Disinfection Solutions
The COVID-19 pandemic has made everyone more anxious than ever about keeping their properties clean and sterilized. Even as life returns to normal, business owners still need to be cautious and do everything they can to keep their employees and customers safe. Fortunately, 911 Restoration of Burbank can offer you the most thorough Cleaning services around.
Every member of our crew has been fully trained according to the latest EPA and CDC guidelines. They work to thoroughly disinfect every corner of your property, allowing you to continue running your business and making you feel more secure at home. Because at the end of the day, your health and your peace of mind are what matter most to us.
Call us today and learn how we can help protect you.
Mold Removal
If you experience water damage and don't address it properly, you'll then have another problem in the form of mold 911. An outbreak will spread in dark damp places, making it impossible to find until it's too late. This could result in potential health concerns and permanent structural damage if it's not removed quickly and safely.
Don't wait until it becomes a health issue.  Let our team of mold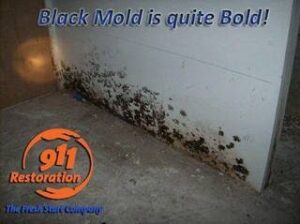 remediation experts take care of it for you. They take all necessary precautions during removal, and will also replace any affected materials if need be. Even better, we can offer third-party laboratory testing to really put your mind at ease.
Sewage Backup and Cleanup
A sudden sewage backup is one of the most unpleasant things that a property owner could experience. Not only is it gross to see and smell, but it also causes structural damage.  This can potentially bring a wide range of disease-causing parasites into your home or business. 
Thankfully, our experts at 911 Restoration of Burbank will safely perform sewage backup cleanup on any type of property. They'll then work to restore water-damaged areas, repair your plumbing, fully sanitize your property, and remove all lingering odors so you'll never be reminded of this disaster again. We'll even take the extra step of providing tips and hacks to prevent another backup from happening again.
Your health and safety are our number one concern, so call us today and learn more about our cleanup services.
Fire and Smoke Damage Restoration
Fire is a property owner's worst nightmare, and sometimes disasters will happen no matter how much you try to prevent them. While we at 911 Restoration of Burbank can't do anything to put out property firewood Burbank, our IICRC-certified team is always on hand to completely restore your home or business.
From the moment they arrive, our experts eliminate permanent odors, salvage personal property, and restore your property back to like-new condition. We also employ some of the best techniques around such as soda blasting and puff back cleanup to remove smoke, ash, and soot.
If your property has suffered damage and needs restoration, call 911 Restoration today and get a Fresh Start!