Water Damage Restoration in Burbank
Water damage can come from any number of sources, whether it's a burst pipe, a sudden rainstorm, or even a fire's Burbank hose or sprinkler system. No matter how it started, even a small amount can permanently ruin your property, and you'll need to get it fixed right away before things get a lot worse. But with so much at stake, you know that you can't rely on just any company to get the job done right.
If you've just experienced a disaster at your home or business, know that you can count on 911 Restoration of Burbank for fast water damage restoration. With 24/7/365 availability, we'll have a team of professionals at your front door within 45 minutes of your call. 
We are locally owned and operated, just like all of our other locations, and our staff is fully-licensed, bonded, and insured. Each of our technicians is IICRC-certified and expertly trained in all of the latest restoration techniques, guaranteeing that your home or business will be brought back to its original form.
As soon as they arrive on scene, our team will perform a free visual inspection (for property owners only) before getting right to work on water extraction and quick-drying. Our services truly run the gamut, including everything from structural repairs and safeguarding personal items to mold removal Pasadena. 
We take care of Burbank one piece of property at a time. Call us right away and learn how we can give you the Fresh Start you desperately need.
Restoration Services For Your Burbank Home or Business
Your neighborhood may have just been hit with a flood, or a sudden drop in temperatures just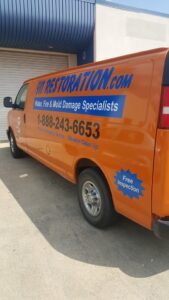 caused a pipe burst. Maybe there was an unexpected rainstorm and now there's a leak in your roof. No matter how you sustained water damage, only the best professionals in the area can bring your home or business back to like-new condition.
When you call on the pros at 911 Restoration of Burbank, you'll get the highest level of service possible. With expertly-trained technicians and plenty of compassion, it's like calling on a group of your highly-skilled friends.
Upon their arrival, our water damage restoration techs work quickly to extract all the water from your property and get everything completely dry using their high-powered fans. From there, you can expect our services to include:
Emergency packing and storing of at-risk items

Emergency boarding of windows and roofs

Replacing of drywall and insulation

Repairing and replacing flooring

General structural repairs
Our professionals go the extra mile to make sure that your home or business is in better-than-new condition. They constantly check for mold as they work and quickly remove any outbreaks that they find. They can even take the extra step of removing any permanent odors, making you feel like it never even happened.
If you own property anywhere in the Burbank area, 911 Restoration is on hand to help you after any major disaster.
The 911 Restoration van parked in a driveway in front of a white and blue commercial garage.
How Much Can Water Damage Cost Me, Even With Insurance?
Water damage can cost you anywhere from a few hundred to millions of dollars,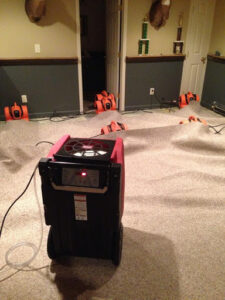 which is why all property owners should have insurance. However, getting the coverage you need can be a confusing process, and the last thing that you'll want to do in the middle of a crisis is deal with your provider for long periods of time.
Thankfully, in addition to our restoration services, 911 Restoration of Burbank can also provide you with a free insurance consultation. We'll go over everything that's covered and how much you can expect to pay for the damage. From there, we also do everything from helping you out with the complicated paperwork to billing the company directly.
You already have a lot on your plate, and we're here to help lighten the load however we can.
Furthermore, you can expect all of our services to come with the utmost sensitivity and professionalism. Since we're locally based, we consider all of our clients to be our neighbors and do everything we can to help you get back on your feet. We can even give you a few helpful tips to prevent this kind of damage from happening again.
Our biggest goal with every job is to restore both your home and your peace of mind. If you've got water damage and don't know who to turn to, reach out to us at 911 Restoration today for a truly Fresh Start.
We happily provide our services to everyone here in Burbank, Glendale, and Pasadena.
A water vacuum set on a tan carpet while five blow fans dry the floor underneath
Serving the communities of Burbank, Pasadena, Glendale, Los Angeles and surrounding areas.