Sewer Backup in Burbank
There are many types of emergencies that property owners hope they never have to face, such as a sudden sewer backup or sewage backup. Most of the time, you can avoid it simply by watching what you flush and trimming the tree roots in your yard. But sometimes, improper city maintenance or flash foods can leave you with a toxic mess that you can't clean up on your own.
If you're a property owner, you'll be happy to know that 911 Restoration of Burbank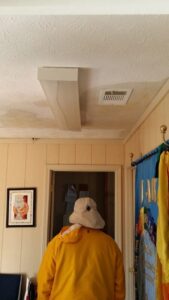 specializes in sewer backup cleanup and decontamination. With our 24/7/365 availability, we can be there any time of any day within 45 minutes of your call. Our entire crew is IICRC-certified and expertly trained in biohazard cleaning services, meaning they'll use the best techniques available to get your home or business back into shape.
From black water removal and water damage restoration to mold remediation, our pros will bring your property to better-than-new condition in no time. And once they completely sanitize your property, and remove any permanent odors, you'll feel like it never even happened.
All property owners receive a free visual inspection upon our arrival, as well as updates on our continual progress as we make repairs. We can also sit down with you to discuss your insurance coverage. But most importantly, we'll treat you with the greatest amount of compassion and sensitivity, allowing you to put your mind at ease.
So when you've discovered a nasty backup on your property, don't hesitate for a minute to call for help. We'll be there any time Burbank, Glendale, and Pasadena need our services.
Taking Care of Sewer Backup on all Burbank Properties
Just like water damage, sewage backup has to be addressed right away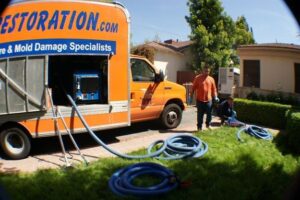 before it leads to something worse. Not only is it absolutely gross to see and smell, but it also turns your property into a breeding ground for hundreds of disease-causing parasites. But unless you're professionally trained, you should never attempt to perform black 911 water damage experts on your own.
As soon as you've discovered the problem, stay as far away from it as you can. Keep everyone else, especially pets and small children, from entering the space so they can stay safe. And, of course, call for our emergency services here in Burbank so we can send a team of our professionals straight to your front door right away.
As soon as they arrive, our experts perform a quick but thorough visual examination before getting straight to work. They then remove all of the water on your property and get everything dry with help from their high-powered blow fans. Furthermore, they can pack up and store your at-risk possessions and bring any salvageable items in to be fully restored.
From there, our team will efficiently:
Repair your sewage system

Fix any structural damage

Replace drywall, and insulation

Repair or replace the flooring

Sanitize and disinfect

Remove permanent odors
Sewage backup can cause many different forms of damage, from contamination to water damage and mold. Instead of contacting multiple companies, let our experts take on everything at once so you can get back to your normal routine sooner. Call us today to get the help you need.
Happy to Help Property Owners in More Ways Than One
Here at 911 Restoration of Burbank, we aren't content with just restoring your commercial or residential property and walking away. Because we are locally owned and operated, we treat all of our clients like we would our own neighbors. This means that you'll be thoroughly taken care of before, during, and after our restoration process.
Aside from just inspecting and repairing the damage, our helpful on-site pros can give you plenty of amazing tips for avoiding another nasty emergency. Some of the best ways to prevent sewage backup are to:
Only flush human waste and toilet paper

Never dump corrosive chemicals down the drain

Never dispose of oils down the drain

Trim and maintain nearby tree root

Install a backup valve if necessary

Be aware of gurgling faucets and toilets
Furthermore, we can provide you with a free insurance consultation to let you know your best options moving forward. We will walk you through every step of filing a claim, from filling out the 
complicated paperwork to billing the company ourselves. No matter how stressful things get, we'll be here for you every step of the way.
If you need sewage backup cleaning services right away, turn to the Fresh Start company and bring your Burbank-area home or business to better-than-new condition.
Serving the communities of Burbank, Pasadena, Glendale, Los Angeles and surrounding areas.